I Madame Sadowsky, nati nel 2005, propongono un tributo alla New Wave con un repertorio di cover che spazia dal dark al synth-pop, dal new romantic all'industrial.
Il nome è ispirato da una famosa maison parigina di inizio '900.

Il repertorio include brani di: Depeche Mode, The Cure, Joy Division, New Order, Simple Minds, Tears For Fears, Japan, Ultravox, Gary Numan, Soft Cell, Visage, The Normal, Killing Joke, Bauhaus, The Sisters Of Mercy, Echo & The Bunnymen, The Sound, The Comsat Angels, Spandau Ballet, The Psychedelic Furs, The Human League, John Foxx, The Danse Society, Duran Duran, Fad Gadget...

Il gruppo ha tenuto finora oltre 190 concerti nel nord Italia, riscuotendo successo in club piccoli e grandi e ricevendo recensioni lusinghiere da parte della stampa di settore. Nel febbraio 2009 i Madame Sadowsky hanno avuto l'onore di aprire il concerto di Garbo al Thunder Road di Codevilla (PV). Nel settembre 2010 hanno partecipato a "Il Cuore nella Musica", concerto di raccolta fondi per Mick Karn, organizzato dalla Fondazione Villa Benzi Zecchini.

I Madame Sadowsky sono:
Roger Marchi (voce e programmazioni);
Andrea Majocchi (tastiere, programmazioni e cori);
Alessandro Peroni (chitarra, basso, tastiere e programmazioni).

Elena Fiocchi è cantante ospite in alcuni brani.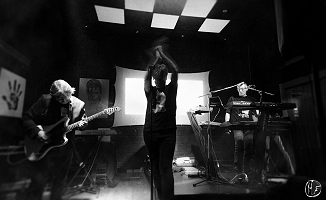 Foto: Madeleine Fléau